What's With Yase
A man from nowhere came from behind, LEONARD "Bat-egg" GASPAR, tops on the first Agriculture Licensure Board Examination. See posters and print-ads for details.hehehe



BAT-EGG


CONGRATULATIONS!
"Matalino man ang matsing, si Bat-egg ang mas magaling."
Inside UPLB
Mar 22 - End of Classes
Mar 24 - Start of Final Exams
Mar 29 - End of Final Exams
Feature
Real Name: Angleica B. Colmenares
Screen Name: Angel Locsin
Birthday: April 23, 1985
Height: 5'5
School: ABE (Freshman)
Likes: friendly, thoughtful and loyal people
Dislikes: Untidy and mayabang person
Shows: Click - GMA
Commercials: Coke "Ang Coke
Ko?!",Cream-O "Paul", Great
Globe Adventure "Where Are
We Rushing Ba?"
Pic of the Week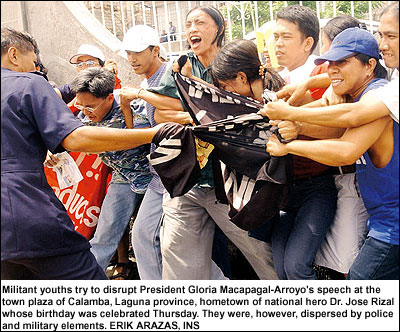 Cool guys!
Enzo - Mascott design
Rommel T - Directory
Mheo - Boyfriend ni Angel Locsin
Brods!! Thanks for the support.
And the nominees for graduation are:
Romeo Espeno
Jojo Samera
Adrian Gareza
Ron '99
Trivia

Each year, students and teachers around a certain country celebrate Pi Day on March 14 (3/14 or 3.14). Pi is a number that has intrigued people throughout time. Part of its charm is that it is an irrational number; a decimal that does not terminate or repeat. Memorizing digits of pi is a favorite past time for some people! In March 2000, Jake Euget, a high school senior in Fargo, North Dakota, won his school's annual pi memorization contest by reciting 5,005 digits of pi. He recited the digits in 55 minutes.
Hot Links
Log-in